Last Shot On the Trail
13 to 17 Juillet 2021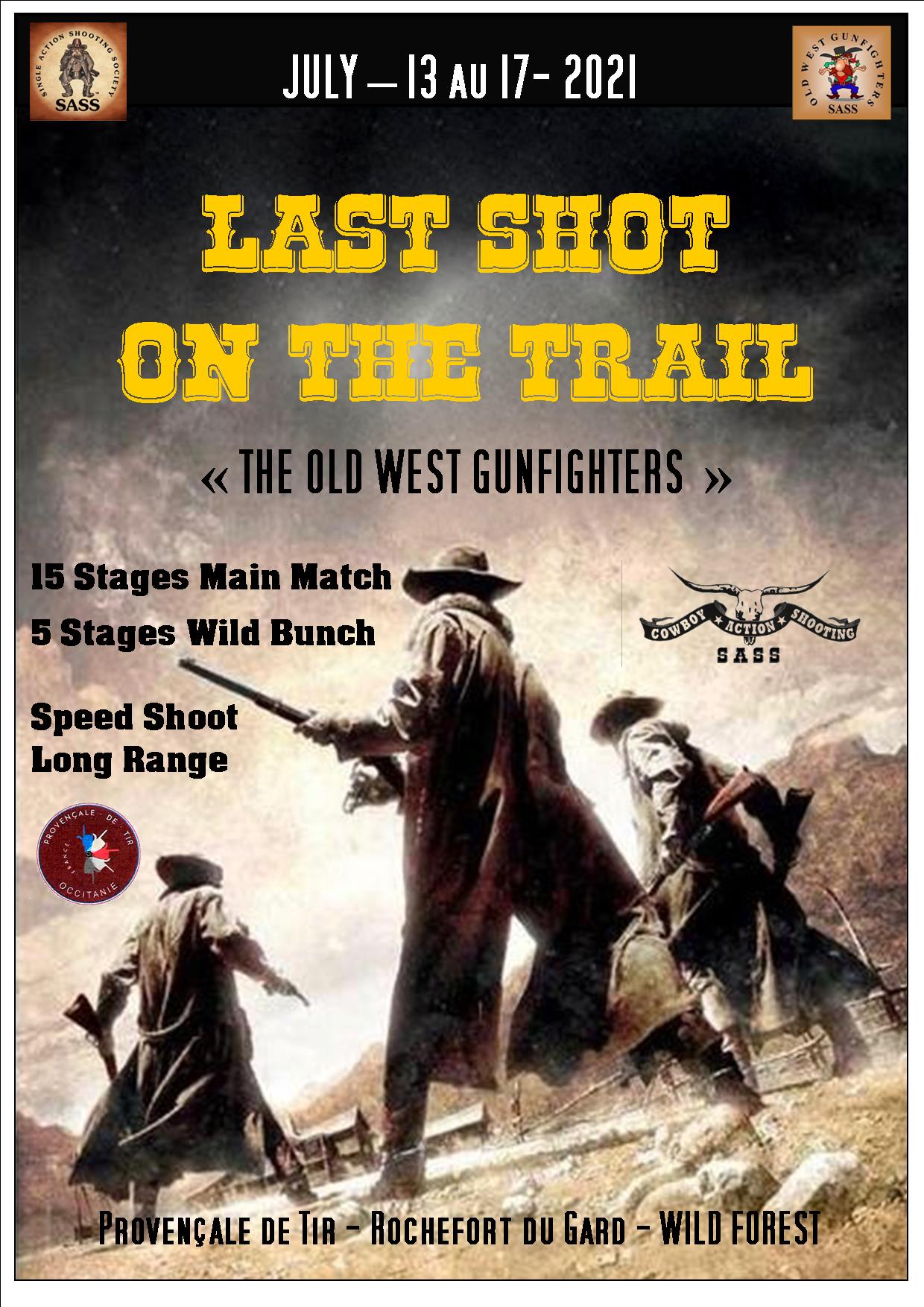 19 Mai 2020 - ATTENTION !!! - MODIFICATION DU PROGRAMME - PROGRAMM CHANGES.
Un nouvel arrêté municipal de la ville de ROCHEFORT DU GARD, interdit tout tir durant les jours fériés.
De ce fait le Wild Bunch sera tiré le Mardi 13 Juillet 2021. Le 14 Juillet sera réservé au Cours RO II ( Refresh et Cours )
A New Municipal Ordinance prohibits shooting during Holliday period.
To be in accordance, Wild bunch will be shot on Tuesday 13th of July 2021. The 14 will be no gun in Town. An RO II Course/Refreshment will be held.
-
Téléchargement / Download :

   
-
-
Situation :
-
---
Les Inscrits .... 😉
| Alias | Pays | Cat MM | CAT WB | Camping | Type |
| --- | --- | --- | --- | --- | --- |
| Pat O'COURSON | France | Elder Statesmen | Senior Modern | Yes | Tente / Tent |
| Potato pit | Luxembourg | FC Gunfighter | Traditional | Yes | Camping Car |
| White Biggy | Luxembourg | Ladies Cowgirl | | Yes | |
| KATIE LOU | LUXEMBOURG | Ladies Senior | | Yes | Camping Car |
| DOC MARBI | Luxemburg | Forty-Niner (49er) | | No | |
| Marshal Dundee | France | Cattle Baron | | Yes | Caravane |
| Bill Armandillo | France | Cowboy | | Yes | Tente / Tent |
| Tom jeffords | France | Forty-Niner (49er) | | No | |
| Al F Swearengen | France | Elder Statesmen | Senior Modern | Yes | Camping Car |
| Looping | France | Senior | | No | |
| Frenchie Boy | France | Senior | Modern | Yes | Caravane |
| Stage Coach Mike | Germany | Classic Cowboy | Traditional | Yes | Camping Car |
| Ranger Wallace | France | Senior | | Yes | Camping Car |
| Pit Stoley | F | Elder Statesmen | | Yes | Tente / Tent |
| French Bob | France | Senior | Modern | No | |
| Redneck Mike | France | Senior | Modern | Yes | Caravane |
| Hunting Lady | Germany | Ladies 49er | | Yes | Caravane |
| The Medic | Germany | Frontier Cartridge | Modern | Yes | Caravane |
| Mike SHOGAN | France | Cattle Baron | | No | |
| Vince Pepper | Allemagne | FC Duelist | | Yes | Tente / Tent |
| Wyatt Baker | España | Silver Senior | | No | |
| JOE SANDERS | FRANCE | Elder Statesmen | Modern | Yes | Camping Car |
| Jack Blackfield | France | Senior | | No | |
| HOMBRE | Spanien | Senior | Modern | Yes | Camping Car |
| Betty Blue Smett | France | Ladies Cowgirl | | No | |
| Jo Smett | France | Elder Statesmen | | Yes | |
| palooserider | France | Silver Senior | | No | |
| Captain Wildbeard | Danmark | Silver Senior | Modern | Yes | Tente / Tent |
| BLONDIN | France | Forty-Niner (49er) | | No | |
| Gran'pa Jef | France | Cattle Baron | Senior Modern | No | |
| SmiloDoc | Germany | Forty-Niner (49er) | Modern | Yes | Camping Car |
| the kid of neckwhite | France | Wrangler | | Yes | Camping Car |
| little sioux of neckwhite | France | Ladies Cowgirl | | Yes | Tente / Tent |
| pat froggy fatherone | france | Forty-Niner (49er) | Modern | No | |
| Black Eagle Montana | France | B-Western | | Yes | Camping Car |
| Split bill | Allemagne | Classic Cowboy | Traditional | Yes | |
| Bob Sailor | France | Silver Senior | | Yes | Tente / Tent |
| VALLOMBREUSE | FRANCE | Senior | Modern | Yes | Camping Car |